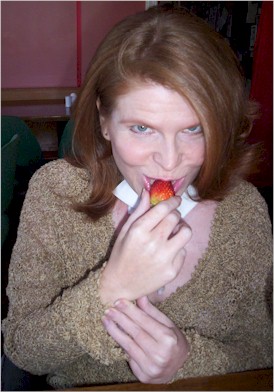 FAQ: personal tastes
You enjoy the sensuous delights of food and drink. What is your favorite cuisine?
I do love to enjoy my senses, all of them. As for food, Indian tends to be my favorite. To me, it's a nice confluence of appreciation of another culture's spiritual and culinary aesthetics. And there are ample vegetarian, high-protein options. I first tried Indian food when an Indian graduate student in the sciences came to my apartment and prepared a delicious meal for me. I was hooked. Almost two years later my Mexican-American roommate shared my love of Indian cuisine and prepared it for us often. And not long after that two Indian restaurants opened in the town where I lived. I enjoyed partaking of the cuisine there, too, as well as 20 different restaurants featuring the cuisine in U.S. cities and in London.
Your favorite restaurants are ...?
Overall, Khyber, a restaurant specializing in northern Indian cuisine in Houston. I like many different vegetarian cuisines including Greek, Italian, and Mexican. I enjoy dining out as long as nobody is smoking nearby; smoking causes me great pulmonary distress, so the new public smoking bans greatly benefit me. Locally I am a fan of Wine Country Bistro, Zocolo, and the Mabry House. They feature skilled chefs and excellent drink options.
And your tastes in drink?
I rank Red Stripe, Shiner Bock (and Cheer and Kosmo and Redbird), Trippel Belgian Style Ale, St Ambroise Apricot Wheat Ale, and Kingfisher as favorites. I also drink Killian's, Amstel Light, and Heineken Light, but I'm not a huge fan of most beer. However, the welcome addition of Great Raft Brewing in Shreveport has provided for me not only an excellent and easily-obtained set of specialty brews, but also a place of ambience in which to consume it. And during Oktoberfest, you can't beat Paulaner's Maerzen Oktoberfest brew. As far as alcohol goes, my favorite white wine would be champagne typically from the chardonnay grape, but a notable exception is Billecart-Salmon's brut rose. Generally I prefer red wine; I have favorites there, too, but it varies depending on the bottle's year. However, Orin Swift almost always vints excellently.
Given your joy of life and that you are married yet disabled with a body externally of which few parts can move and internally where you breathing has failed, can you ...
Yes! Unlike paralysis, with muscular dystrophy you retain your feeling, even as my muscle weakening, which eventually affects all muscles, and the need to be on the vent almost constantly has necessitated compensatory behavior that we developed for a richness of experiences. When I entered puberty I decided that given my genetic disability I never would marry and have children and thus did not expect ever to have sexual relations. But my husband changed my mind in terms of my receptivity to sexual activity. However, pregnancy would prove particularly dangerous to me. Moreover, if my child was born alive, he or she also would inherit my faulty gene. Despite my respect for motherhood and the miracle of all life, to date I have not felt conception the wiser choice for me and those who would be influenced by my pregnancy and motherhood. However, this does not deter me from pleasurable, mutually respectful sexual relations with my spouse. Additionally, from a clinical perspective, sexual activity with a spouse or committed partner or by your own means provides useful benefits for somebody in my condition; for example, it is one of the only ways I can get significant cardio-vascular exercise. Some females with MD have asked Jeff and me for tips on sexual intercourse. Typically we do not mind responding to sincere queries about aspects of sexual activities from my perspective and experience as a severely disabled woman, and also those as a couple. In fact, given researchers' interest in sexual responses of disabled people, I was asked to conduct and summarize a study about this that was published.
And last of all, are you a natural redhead?
Yes. Although through the years my hair color darkened and more recently again lightens, I was born with red hair and gladly
continue my tenure among the "carrot tops."